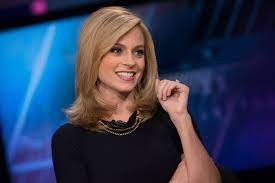 Courtney Reagan Biography
Courtney Reagan is an American journalist serving as a retail and consumer reporter for CNBC. She is currently one of the most well-known faces in the news industry. Reagan was hired as a general assignment reporter for CNBC's Business Day programming in February 2011. She also works for NBC TODAY, NBC Nightly, and Nightly Business Report on public television, in addition to CNBC.
Courtney Reagan CNBC News
Reagan has interviewed the CEOs of Walmart, Target, Macy's, Kohl's, Home Depot, Gap Inc, Burberry, eBay, JCPenney, and many other retailers as part of her retail coverage. Reagan contributes to market coverage at the New York Stock Exchange, Nasdaq Marketsite, and New York Mercantile Exchange in addition to her retail coverage, which ranges from traditional stores to e-commerce distribution centers. She has interviewed celebrities such as Martha Stewart, Reba McEntire, Kris Jenner, and Kim, Khloe, and Kourtney Kardashian, as well as covering national general assignment stories such as the 2008 financial crisis, hurricanes Irene, Sandy, and Michael.
Reagan previously hosted CNBC, NBC affiliate stations, MSNBC, and CNBC world's daily business headline reports. In various capacities, she has appeared on NBC's "TODAY Show" and "Nightly News." Reagan also worked on CNBC's planning team and as a segment producer for "On the Money," CNBC's former primetime show, where she pitched, wrote, and produced feature and news stories and packages. Reagan started her career as a newsdesk producer at CNBC in 2006.
Prior to joining CNBC, Reagan was a member of the NBC Page program, where she worked on "Dateline NBC" and "Weekend Today," as well as in guest relations for the network. Reagan also worked for ESPN Networks and Merrill Lynch. Reagan was named to the National Retail Federation's "List of People Shaping Retail's Future 2016" as an Influencer. Reagan has participated in the American Cancer Society's Team DeterminiNation Marathon Team in 2013, 2015, 2016, and 2019.
READ MORE: Wilfred Frost CNBC, Bío, Age, Height, Husband, Nationality, Salary, Marriage and Net Worth
Courtney Reagan Age
Reagan was born on November 8, 1982, in Dayton Ohio United States. She is 36 years old of age. She celebrates her birthday every 8th of November.
Courtney Reagan Education
She graduated from Miami University in Oxford, Ohio, with bachelor's degrees in finance and mass communication. Reagan earned an MBA with honors from New York University's Stern School of Business, with specializations in economics, luxury marketing, and entertainment/media/technology.
Courtney Reagan Nationality | Ethnicity
Courtney belongs to the Caucasian ethnicity/heritage. She United States. She holds American nationality and citizenship by birth.
Courtney Reagan Height
The CNBC  journalist stands at a height of 5 feet 8 inches.
Courtney Reagan Family | Parents | Siblings
Courtney was born in Dayton Ohio United States to John Reagan and Brenda Reagan. She has a brother by the name of Johnny. Apparently, not much is known about her family, she prefers to keep her personal life away from the limelight.
Courtney Reagan Husband
Reagan and her then-boyfriend, Jared Baker, an analyst for Balyasny Asset Management L.P., proposed to her on November 14, 2013, while she was doing a nighttime on-air segment on engagement rings. Jared revealed that the couple had been dating for seven years and that he had loved her since the first time they met. Courtney accepted the proposal, and the couple married in New York City on August 31, 2014.
Courtney Reagan Salary
She has an estimated salary of $650,000 per year.
Courtney Reagan Net Worth
Reagan has an estimated net worth of $ 10 million.