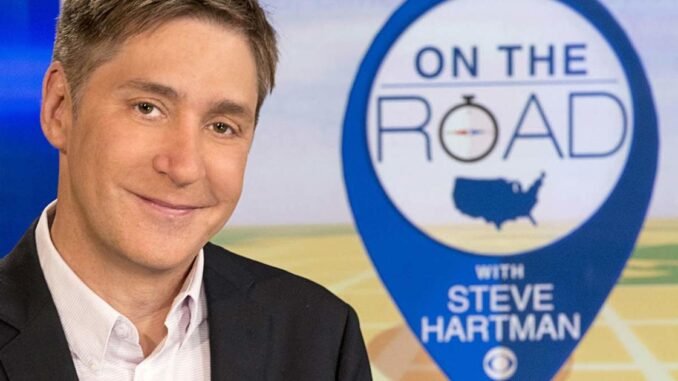 Steve Hartman Biography
Steve Hartman is an American television journalist who works for CBS as a news presenter, reporter, and correspondent. Since 1998, he has worked as a CBS News correspondent. In 2013, he got two Edward R. Murrow Awards for his work on the CBS Evening News. Best Writing awards were given to three of Hartman's stories.

Steve Hartman Age | Birthday
How old is Steve? He is 59 years old as of 14 April 2022. He was born in 1963 in Toledo, Ohio, United States. Celebrates his birthday every 14th of April. His real name is Stephen Robert "Steve" Hartman.
Steve Hartman Education
Hartman graduated from Bowling Green State University with a degree in broadcast media in 1985.
READ MORE: Michael S Schmidt Bio, Age, Education, Ethnicity, Height, Family, Wife, Daughter, Wedding, Net Worth
Steve Hartman Nationality
Steve is an American national and citizen by birth. He was born in Toledo, Ohio, United State of America. Steve is of white ethnicity/heritage/ancestry.
Steve Hartman Family | Parents
He was raised by his parents, in Toledo, Ohio, United State of America, but he has not provided any information about his siblings or family in general. It is unknown whether he had siblings, and the identity of his father and mother is still unknown. He has kept the public in the dark about his childhood.
Steve Hartman married | Wife
Hartman is happily married to Andrea Hartman. The two are blessed to have three children and they together live in Catskill, New York. One of their children has autism.
Steve Hartman Salary
He has an estimated net worth of $ 100,000.
Steve Hartman's Net Worth
He has an estimated net worth of $2 million.
Steve Hartman Book
His book My Funny Old Soul Mate was published on October 8, 2012.
Steve Hartman CBS News | Career
From 1984 to 1987, he worked as an intern and general assignment reporter for WTOL in Toledo, Ohio. He worked as a feature reporter for KSTP in Minneapolis from 1987 to 1991, then for WABC-TV in New York City from 1991 to 1994. From 1994 until 1998, he worked as a feature reporter for KCBS-TV in Los Angeles, where he aired a series called "The Stevening News." Hartman was also a correspondent for two CBS News magazines, Coast to Coast and Public Eye, anchored by Bryant Gumbel. Hartman joined CBS News as a full-time correspondent in 1998, and from 2002 until September 2005, he worked as an essayist on 60 Minutes II.
Hartman's "Assignment America" stories aired on CBS Evening News With Katie Couric and were based on Charles Kuralt's On the Road series, which ran from 1967 through 1980 on CBS. In 2011, CBS relaunched On the Road, with Hartman as the CBS Evening News' Friday evening end-piece with Scott Pelley. In 2013, CBS Evening News won two Edward R. Murrow Awards. Best Writing awards were given to three of Hartman's stories. Hartman rose to attention as the writer and director of the critically acclaimed feature film Everybody Has a Story. David Johnson, a reporter with the Lewiston Morning Tribune, gave Hartman the idea.
He began by telling a few Public Eye stories. Hartman would throw a dart at a map of the US and then travel to the location where the dart landed. When Hartman arrived, he would choose a name out of a phonebook and try to find someone who would agree to be interviewed and give their "story." From Hawaii to Alaska, and from Buckhannon, West Virginia, to Miami, Florida, Hartman explored the United States. In 2010, with the cooperation of NASA, Hartman expanded the series to a global audience by having an astronaut in the International Space Station spin a globe and indicate random locations for Hartman to visit in each "Everybody in the World Has a Story" segment.