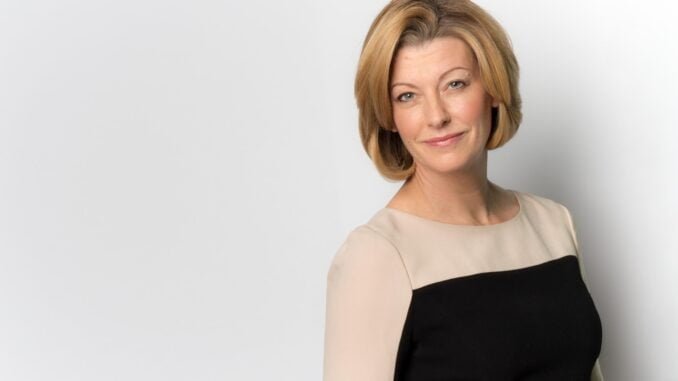 Laura Trevelyan Biography
Laura Trevelyan is a British-American journalist and BBC anchor residing in New York. Trevelyan worked as a UN correspondent for the BBC from May 2006 to 2009. She also covers big national and international stories from the BBC studio in Washington.
Laura Trevelyan Age
How old is Trevelyan? Laura is 53 years old as of August 2021. She was born Laura Kate Trevelyan on 21 August 1968 in Islington, London, United Kingdom. She celebrates her birthday every 21st of August.
Laura Trevelyan Education
Laura attended Parliament Hill Girls School in North London before graduating with honors from Bristol University in 1990 and the University of Wales College in Cardiff in 1991 with a postgraduate diploma in journalism.
What nationality is Laura Trevelyan? Nationality
Laura is a British national and citizen by birth. She was born in Islington, London, United Kingdom. She is of mixed ethnicity/heritage/ancestry.
READ MORE: Alice Bhandhukravi Bio, Age, BBC News, Ethnicity, Height, Family, Baby, Husband, Net Worth, Salary, Health, Weight Loss
Laura Trevelyan Height | Measurements
How tall is Trevelyan? the famous BBC presenter stands at a height of 5 feet 7 inches tall. However, details about her other body measurements will be updated as soon as possible.
Laura Trevelyan Family| Father
Trevelyan was born and raised in Islington, London, United Kingdom. She is the daughter of George Macaulay and the oldest of three children.
Laura Trevelyan husband|Married
Who is Trevelyan's Husband? She is happily married to James Goldston, the former president of ABC News. They met at Cardiff University, where they were both studying journalism. They live in Brooklyn Heights, New York, with their three sons.
Laura Trevelyan Net Worth
Trevelyan has an estimated net worth ranging between $1 Million – $5 Million.
Laura Trevelyan Salary
Trevelyan earns an annual salary ranging from $40,000 – $ 110,500.
Laura Trevelyan Books
She is a descendant of Sir Charles Trevelyan, 1st Baronet, and wrote the 2006 book A Very British Family: The Trevelyans and Their World about the Trevelyan family, including Sir Charles Trevelyan, 1st Baronet. Her second book, The Winchester: The Gun That Built An American Dynasty, was released in September 2016 and delves into the history of America's most renowned rifle and its family.
Laura Trevelyan BBC News  | Career
Laura has covered humanitarian disasters and diplomatic missions all across the world for the BBC, as well as interviewing significant newsmakers and prominent people. Laura moved to the United States in 2004 and worked as a UN reporter for the BBC from 2006 to 2009, covering diplomatic action at the UN headquarters in New York as well as humanitarian and peacekeeping actions around the world. Among other countries, she has worked in Chad, Sudan, Haiti, the Democratic Republic of the Congo, Sri Lanka, Kenya, and Gaza. She accompanied new UN Secretary-General Ban Ki-moon on his first overseas trip to Africa in January 2007. Laura and Mr. Ban travelled to Gaza in 2008/9 to investigate the repercussions of the Israeli-Palestinian conflict.
Laura has reported from Darfur on the UN's efforts to send peacekeepers, as well as The Hague, where Sudan's President Omar Al-Bashir was charged of war crimes and genocide in Darfur by the Prosecutor. After Cyclone Nargis, she was one of just a few journalists who followed Ban Ki-moon to Burma to speak with the ruling generals. She also reported from Liberia, Ghana, Tanzania, and Rwanda during the 2004 and 2008 US presidential elections, as well as President George W. Bush's February 2008 visit to Africa. Since 2006, she has covered the aftermath of Haiti's terrible earthquake and cholera epidemic extensively. While based in New York, Laura studied the sex trafficking trade from Mexico to the United States.
Laura worked as a Political Correspondent for BBC TV and radio news in the UK in the run-up to the 2003 Iraq war, covering general election campaigns and parliamentary debates before coming to New York in 2004. Laura started working for the BBC in 1993 as a researcher for Breakfast News. She covered the Northern Ireland peace process after the historic IRA ceasefire as a correspondent for BBC Ones On the Record in the early 1990s. She began her career with the London Newspaper Group as a general correspondent. Laura wrote a book on her family, A Very British Family, The Trevelyans and Their World, in 2006.