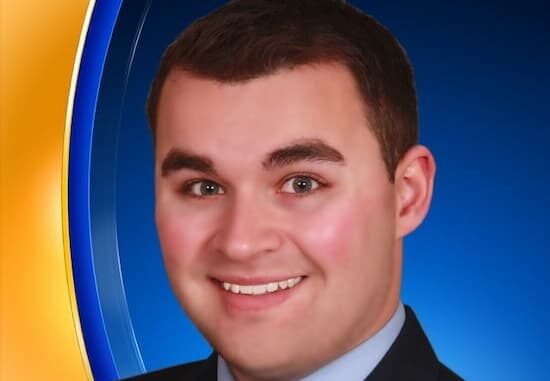 John Gross Biography
John Gross is a meteorologist for WNEM TV5 News in the United States. In January 2018, he joined the First Warn 5 Weather Team as the weekend/weekday Meteorologist. Previously, he interned at Fox 2 Detroit and WLNS 6 Lansing throughout his college years.

John Gross Age | Birthday
He grew up in Maybee, Michigan, a small town south of Detroit. However, details about when he celebrates his birthday are currently not yet known to the public. We will update his birthday information once confirmed available.
John Gross College | Education
In 2012, John graduated from Monroe High School. After that, he went to Monroe County Community College for two years and received an Associate's degree in May 2014. He then went on to Central Michigan University, where he earned a Bachelor of Science in Meteorology with a minor in Mathematics in May 2018.
READ MORE: John Vause Bio, Age, Wiki, CNN, Nationality, Height, Family, Wife, Salary, Net Worth
John Gross Ethnicity | Nationality
Gross is an American national and citizen by birth. He was born in Maybee, Michigan, United State of America. He is of white ethnicity/heritage/ancestry.
John Gross Family | Parent
He was raised by his parents, but he has not provided any information about his siblings or family in general. It is unknown whether he had siblings, and the identity of his father and mother is still unknown. He has kept the public in the dark about his childhood.
John Gross Married | Wife
Is John Married? Gross is happily married to Jessica, a fourth-grade teacher at New Diana ISD's Robert F. Hunt Elementary School. Together they have two children; Kate Gross and Caleb Gross.
John Gross Salary
He earns an annual salary of $100 thousand, which he has earned through being a journalist.
John Gross's Net Worth
He has an estimated net worth of $1 million. This includes his property, funds, and earnings. His main source of income is his work as a journalist.
John Gross WNEM | Career
In Michigan, he's excited to continue his real-world forecasting expertise and collaborate with the rest of the First Warn 5 Weather Team. Since he was a boy, John has had a fascination with the weather. He always preferred to watch the Weather Channel over cartoons, as do most children. As a kid, one of his favorite shows was Storm Stories with Jim Cantore, which he used to watch all the time.
During college, he interned at Fox 2 Detroit and WLNS 6 Lansing, among other places. John was drawn to meteorology because he wanted to see and learn about the physics underlying the many various sorts of hazardous weather occurrences, as well as the damage they can bring to structures and people's lives. Other well-known meteorologists and educators who inspired John included Rich Luterman, Jerry Hodak, and Ginger Zee. When John isn't forecasting, he enjoys spending time with his friends and family, being outside, whether on the lake or camping, or simply finding new music to add to his collection.