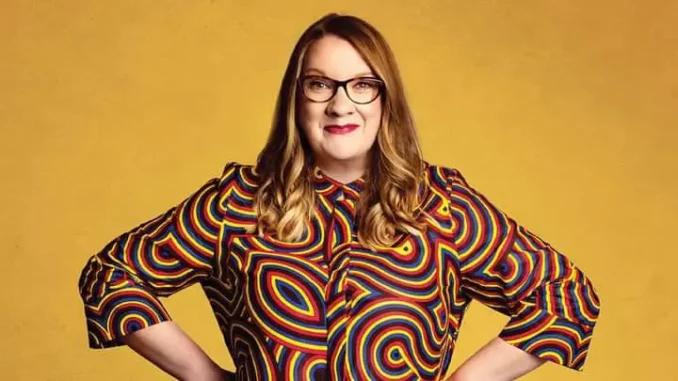 Sarah Millican Biography
Sarah Millican is an English stand-up comedian. She also works as a radio and television host. She won the Best Newcomer Comedy award at the 2008 Edinburgh Festival Fringe. Millican has done several tours in her home country of the United Kingdom since beginning her career as a comedian.

Sarah Millican Age 
How old is Sarah? The renowned comedian is 47 years old as of May 29, 2022. She is from South Shields, Tyne and Wear in England, and was born in the year 1975.
Sarah Millican Education
She attended Mortimer Comprehensive School, which later became Mortimer Community College.
READ MORE: Rebel Wilson Bio, Age, Wiki, Height, Ethnicity, Family, Husband, Net Worth, Weight loss, Pitch Perfect, Movies
Sarah Millican Nationality | Accent
Sarah is a British national and citizen by birth. She was born in South Shields, Tyne, United Kingdom. She is of mixed ethnicity/heritage/ancestry.
Sarah Millican Family| Parents
Millian was born and raised in South Shields, Tyne, United Kingdom, by her parents Valerie Prince and Philip D. King, who was a mining electrician. We were unable to learn more about her family because no such information was available to the public. It's unknown whether she has siblings. This section, however, will be updated as soon as new information becomes available.
Sarah Millican Husband| Wedding
Sarah has been married twice with her first husband being Andrew Millican. The former couple was married from 1997 to 2004 when Andrew left Sarah unexpectedly. By 2006, she began a relationship with Gary Delaney, a fellow stand-up comedian. They moved in together in 2013 and tied the knot in December of the same year.
Sarah Millican Books| Author
♦  2017 – How to be Champion
Sarah Millican's Net Worth
She has amassed a modest wealth through the revenues of her job. However,  this includes her property, funds, and earnings. Her main source of income is his work as a comedian and writer. she has earned over $2 million from her performances and is one of the highest-earning female comedians.
Sarah Millican Comedy Shows
♦  Control Enthusiast Live (3 December 2018)
♦  Outsider Live (21 November 2016)
♦  Home Bird Live (17 November 2014)
♦  Thoroughly Modern Millican Live (12 November 2012)
♦  Chatterbox Live (21 November 2011)
Millican's Awards and Nominations for awards
♦  2011 – British Comedy Award People's Choice Award for the King or Queen of Comedy
♦  2010 – (Best show nomination) Edinburgh Comedy Award
♦  2008 – (Best Newcomer) if.comedy award
♦  2007 – (Best Breakthrough Act) North West Comedy Awards
♦  2006 – (Best Newcomer nomination) Chortle Awards
♦  2005 – (runner-up) Funny Women
♦  2005 – (overall winner) Amused Moose
♦  2005 – (finalist) BBC New Comedy Awards
♦  2005 – (2nd place) So You Think You're Funny?
Sarah Millican Comedian| Career
After leaving the civil service, Millican entered the comedy scene, making her Edinburgh Festival Fringe debut with the performance Sarah Millican's Not Nice. Her divorce had inspired her to write this. In 2008, she won the if.comedy award for Best Newcomer. In the spring of 2009, she began previewing her second Edinburgh show, receiving positive feedback for her material on the battle of the sexes. Many reviewers remarked on her 'blue' material. Millican's third show, Chatterbox, was hosted by the Stand Comedy Club during the 2010 Fringe. The show was nominated for and lost the main Edinburgh Comedy Award to Russell Kane.
Sarah has worked as a panellist on 8 Out of 10 Cats, Have I Got News for You, Mock the Week, You Have Been Watching, Would I Lie to You?, QI, and Never Mind the Buzzcocks since her first appearance in the spotlight, as well as a performer at The Secret Policeman's Ball 2008 and on 4 Stands Up. She has also appeared on the Channel 4 crossover game show 8 Out of 10 Cats Does Countdown a few times. In June 2009, she appeared on Michael McIntyre's Comedy Roadshow's Manchester edition. Sarah first appeared on David Mitchell's panel show The Bubble in March 2010, and has since appeared on six episodes.
She provided vocal work to the BBC's natural history footage for Walk on the Wild Side, alongside fellow comics Rhod Gilbert, Jon Richardson, Isy Suttie and Gavin Webster. On 11 December 2009, she appeared on Live at the Apollo and also headlined Michael McIntyre's Comedy Roadshow. She also recorded at the Empire Theatre, Sunderland on 15 August 2010 as well as headlined the fourth episode of Dave's One Night Stand.
Sarah then ventured into radio with her series, Sarah Millican's Support Group, which began broadcasting on 18 February 2010 on BBC Radio 4. The format is that studio audience members are encouraged to share problems with her agony aunt character for her to offer tips "in the same way as the busybody at the end of your street who knows everything and dishes out advice whether you want to hear it or not does". Some problems are scripted, the roles being played by guest actors, while others come from real people in the audience, to allow Sarah to improvise. On 2 May 2011, the second series of the show debuted on BBC Radio 4 Extra.
She was also a regular co-host of BBC Radio 5 Live's satirical news show 7 Day Sunday, alongside comedians Chris Addison, Andy Zaltzman, and one different guest each week. In January 2010, the first episode aired. However, she and Addison left the show on February 27, 2011. In December 2011, she appeared in three Viz "Comedy Blaps" for Channel 4 alongside Steve Coogan, Simon Greenall, and Gavin Webster. Still in 2011, she appeared as a panelist on ITV's Marriage Ref and also on the daytime chat show Loose Women. She did, however, leave the show in August. Soon after, she appeared on a number of other panels and chat shows. The Sarah Millican Television Programme, broadcast on 8 March 2012 on BBC Two. Released a follow-up live DVD, Thoroughly Modern Millican, in November 2012.
In early January 2013, she appeared on The One Show. On January 15, 2013, The Sarah Millican Television Programme began its second season. On April 29, 2012, she appeared in a celebrity episode of Deal or No Deal. In September 2014, she launched Standard Issue, an online magazine for women, which was followed by a spinoff podcast in February 2016. Her autobiography, How to Be a Champion, was released in October 2017. Control Enthusiast, her comedy tour, toured the UK, Canada, and Oceania in 2018. In 2019, Millican began hosting the comedy panel show Elephant in the Room for Radio 4. It asks panelists about their life experiences and determines who is closest and furthest away from the national average.