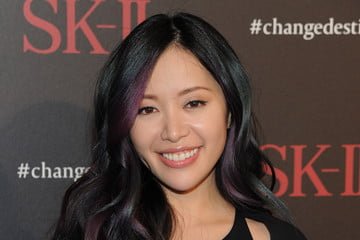 Michelle Phan Biography
Michelle Phan is an American YouTuber who specializes in beauty. She is the founder and owner of the multimillion-dollar cosmetics brand EM Cosmetics. She is extremely well-liked not only in the United States and Europe but also in Asian and Middle Eastern nations.

Michelle Phan Age | Birthday
How old is Phan? She is 35 years old as of 11 April 2022. She was born in 1987 in Boston, Massachusetts, United States. Phan celebrates her birthday every 11th of April.
Michelle Phan Education
Phan was a student at Ringling College of Art and Design but had to drop out owing to financial difficulties. Phan obtained her Honorary Doctorate of Arts degree from Ringling College of Art and Design in March 2014.
READ MORE: April Dupre Bio, Age, WWL TV, Ethnicity, Height, Parents, Husband, Wedding, Salary, Net Worth
Michelle Phan Height | Measurements
Michelle the famous YouTuber stands at a height of 5'1″ (155 cm).
Michelle Phan Family | Parents | Siblings | Sister
She was born and raised in Boston, Massachusetts, United States, the daughter of Jennifer Phan. Her parents were also immigrants from Vietnam. Christine Phan, Phan's younger half-sister, and Steve Phan, Phan's older brother, are Phan's siblings. Phan alleges that when she was a child, her biological father abandoned the family. Her mother remarried, but she eventually divorced her stepfather after years of abuse from him. With their mother, Phan, her brother, and her half-sister relocated to Tampa, Florida.
Michelle Phan Husband | Married
she is in a long-term relationship with Dominique Capraro.
Did Michelle Phan have a Baby?
She is not married and has no child.
Michelle Phan's Net Worth
Phan has an estimated net worth of  50 million dollars, which she has earned throughout her career.
Michelle Phan MakeUp | Career
In 2005, Phan started a personal blog where she discussed numerous cosmetic techniques and received requests for further information. Ricebunny began posting instructional vlogs on Xanga in May 2007, and later on YouTube under the name Ricebunny in August 2007. In 2009 and 2010, BuzzFeed featured two of Phan's "How To Get Lady Gaga's Eyes" makeup tutorials, which went viral and helped her gain over a million followers. Lancôme hired Phan as their official video make-up artist in 2010 after she used some of their products in her videos, making her the company's first Vietnamese-American spokesperson.
Phan co-founded MyGlam, a monthly beauty subscription service, in 2011. It was first introduced in September 2012 and is now known as Ipsy. The Generation Beauty conference is sponsored by Ipsy. In 2012, Phan created FAWN, a YouTube MCN (multi-channel network), as a YouTube advertising partner. L'Oreal announced EM Cosmetics by Michelle Phan, a new cosmetic collection dedicated to her mother, on August 15, 2013. Phan purchased L'Oreal's part of EM Cosmetics through Ipsy in April 2015, which she disclosed on Instagram in December 2016; she later bought the brand from Ipsy and relaunched it in April 2017. During this time, Phan also left Ipsy to concentrate on EM Cosmetics.
In May 2014, Phan began working with Endemol Beyond USA with the intention of establishing a talent network that would feature YouTubers and produce content for millennials. The ICON network, which focuses on "beauty, leisure, and entertainment," launched on Roku and the internet in March 2015. In September 2014, Phan and Cutting Edge Group co-founded Shift Music Group. Phan published Make Up: Your Life Guide to Beauty, Style, and Success – Online and Off with Random House in October 2014. On 2018, Phan created Thematic, a company that specialized in music licensing. In 2019, Phan returned to the YouTube community after a three-year hiatus.