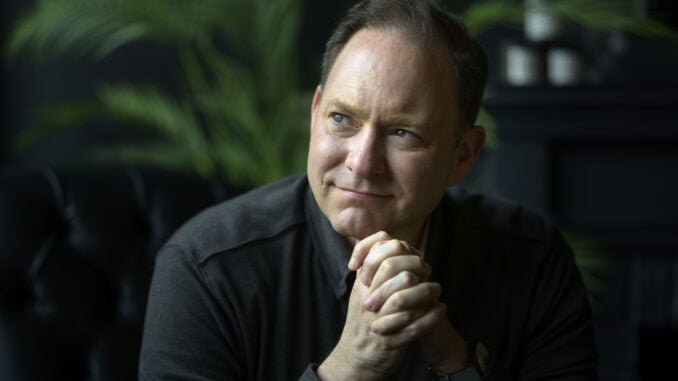 Jason DeRusha Biography
Jason DeRusha is a food critic for Minnesota Monthly and an Emmy award-winning journalist from the United States who works as the anchor of WCCO-TV Morning and MidMorning. Jason co-anchors WCCO This Morning from 4:30 a.m. to 7:00 a.m. on weekdays and WCCO Mid-Morning from 9 to 10 a.m. on weekends. He also contributes to the station's culinary column, "DeRusha Eats."

Jason DeRusha Age
How old is Jason? He is 47 years old as of 24 January 2022. He was born in 1975 in Des Plaines, Illinois, United States.
Jason DeRusha Education
Jason received his political science and broadcast communication degrees from Marquette University's Honors Program, magna cum laude. In 2012, he was named Young Alumnus of the Year by Marquette University.
READ MORE: Jason Carroll Bio, Age, CNN, Nationality, Height, Parents, Wife, Married, Net Worth, Salary
Jason DeRusha Height
DeRusha stands at a height of 5 feet 10 inches tall.
Jason DeRusha Nationality
He is an American national and citizen by birth. he was born in Des Plaines, Illinois, United State of America. He is of mixed ethnicity/heritage/ancestry.
Jason DeRusha Family | Parents
He was born in 1975 in Des Plaines, Illinois, United States. However, attempts to establish the identities of his mother and father were in vain since no information about them is available to the public. It's therefore not known whether he has any siblings.
Jason DeRusha Wife | Married
Jason is happily married to Alyssa DeRusha, a Wayzata High graduate. The two have two sons; Seth DeRusha and Sam DeRusha. They together reside in Maple Grove.
Jason DeRusha Salary
He earns an annual salary of $290,000.
Jason DeRusha Net Worth
He has an estimated net worth of $3 Million.
DeRusha left WCCO? -| Career
Since then, he's won nine Emmy Awards, been named one of the Jaycees' Ten Outstanding Young Minnesotans, and had the city of Minneapolis declare September 21 "Jason DeRusha Day" in honor of his food reporting. There's no getting around it. Weekdays from 4:30 a.m. to 7:00 a.m., Jason co-anchors WCCO This Morning, as well as WCCO Mid-Morning from 9 to 10 a.m. He also works for the channel as a culinary correspondent, creating "DeRusha Eats." While working at WCCO, he was one of the first television reporters on the scene and on the air when the Interstate 35W bridge collapsed. He answered, "Good Question" for 512 years. The Minneapolis/St. Paul Business Journal named him one of the "40 under 40" in 2013.The list of young community leaders from the Paul Business Journal. Minnesota "If anyone understands where mass media is going… it's DeRusha," wrote Monthly in his "Power 75" list.
Jason spent three years as a reporter at WISN-TV in Milwaukee before joining WCCO-TV. He previously interned at "ABC World News Tonight" in New York and worked at KWQC-TV in Davenport, Iowa, WREX-TV in Rockford, Illinois, and KWQC-TV in Davenport, Iowa. For anchoring WCCO This Morning, breaking news coverage, reporting his DeRusha Eats piece, and the Good Question segment, Jason has won Regional Emmys. Jason has served on the Board of Governors of the National Academy of Television Arts and Sciences' Upper Midwest Chapter in the Twin Cities. He is a frequent speaker and host of charitable events. Since 2009, he has been writing for regional Minnesota publications and is a frequent fill-in broadcaster at WCCO Radio. Right now, he's working as a food reviewer for Minnesota Monthly. Jason collects glass art and has served as a judge for the Uptown Art Fair. He's also attempted but failed, to blow a handful of glass artworks.