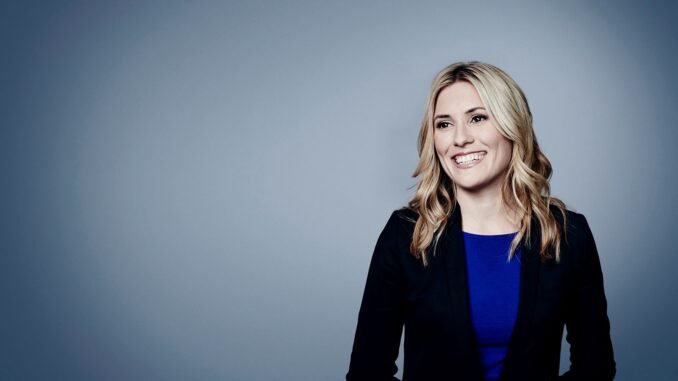 Erin Mclaughlin Biography
Erin McLaughlin is a journalist from the United States who works as an international correspondent at CNN's London bureau. McLaughlin began her career as an intern at CNN in 2003. She also detailed how ISIS recruits youngsters and sends them as suicide bombers to their deaths. Prior to becoming a full-time correspondent, McLaughlin worked as a producer on a number of high-profile stories.
Erin Mclaughlin Age
How old is McLaughlin? She is 41 years old as of 2021. She was born on August 24, 1980, in Los Angeles in the United States.
Erin Mclaughlin Education
She holds a Bachelor of Arts degree from the University of California Berkeley's Haas Undergraduate Program, where she graduated with honors, Phi Betta Kappa.
READ MORE: Brianna Ruffalo Bio, Age, ABC7, Education, Ethnicity, Height, Family, Husband, Salary, Net Worth
Erin Mclaughlin Ethnicity | Nationality
What ethnicity is Erin? she belongs to the white ethnicity/heritage, she was born and raised in Los Angeles, the  United States and she holds American nationality.
Erin Mclaughlin Height
How tall is She? Erin the famous  Los Angeles-based journalist stands at a height of 5 feet 9 inches (1.75 m).
Erin Mclaughlin Family |Parents
She was born and raised in Los Angeles in the United States. to her parents. However, attempts to establish the identities of her mother and father were in vain since no information about them is available to the public. It's therefore not known whether she has any siblings.
Erin Mclaughlin Husband |Married
Erin is a contentedly married woman. She has been married to Ken Peckham, a physician, since 2009. In the spring, the couple married in New York City. Erin and Ken have two gorgeous daughters, Emma and Catherine.
Erin Mclaughlin Children
Erin has no biological children, but she is the stepmother to Emma and Catherine, her husband's kids from a previous marriage.
Erin Mclaughlin's Net Worth
Mclaughlin has an estimated net worth ranging between $1 Million – $5 Million.
Erin Mclaughlin Salary
Mclaughlin earns an annual salary ranging from $40,000 – $ 110,500.
Erin Mclaughlin CNN | Career
McLaughlin has played an important part in covering terror crises across Europe, including the Paris attacks in January and November 2015, the Brussels bombings in March 2016, and the Berlin attack in December 2016. McLaughlin is a regular contributor from Brussels. She wrote an exclusive report on terrorist recruitment in Belgium, calling into question a Belgian court's decision to release a convicted ISIS recruiter, and she is continuing to examine the new relationship between the European Union and the Trump Administration in the United States. She has covered a wide range of subjects in the UK and Europe, including the UK's vote to leave the EU, Amanda Knox and Raffaele Sollecito's trials, and Pope Francis' Conclave, which she also accompanied.
McLaughlin has substantial reporting experience from Jerusalem, having been there in 2015 to cover the wave of violence that enveloped the city and the West Bank. She also reported from Moscow for Minsk II, as well as from Ukraine in the run-up to its presidential elections, in which Petro Poroshenko was elected. She has been an integral part of CNN's coverage of aviation disasters. McLaughlin was in Perth, Australia, and Reunion Island during the hunt for Malaysia Airlines Flight 370 when the first piece of wreckage linked to the tragedy was recovered. She was inside Sharm El Sheikh's security screening area after the Metro Jetplane tragedy. Following the downing of MH17, she met with victims' families in Amsterdam.
She also reported on the Germanwings disaster from the French Alps, when it was discovered that the plane's co-pilot deliberately crashed. She joined CNN Atlanta in 2004 and worked as a researcher on the foreign assignment desk until 2010, when she went to London. Before becoming a full-time correspondent, McLaughlin worked as a producer on a number of high-profile stories. She was part of the Emmy-nominated team that covered the failed terror attack in Detroit in 2009, and she has provided coverage of events ranging from Norway's Anders Breivik trial to the European Union's Greek bailout, the 2011 London Riots, and Saddam Hussein's trial. She also assisted in the coordination of CNN's coverage of William and Catherine's wedding.