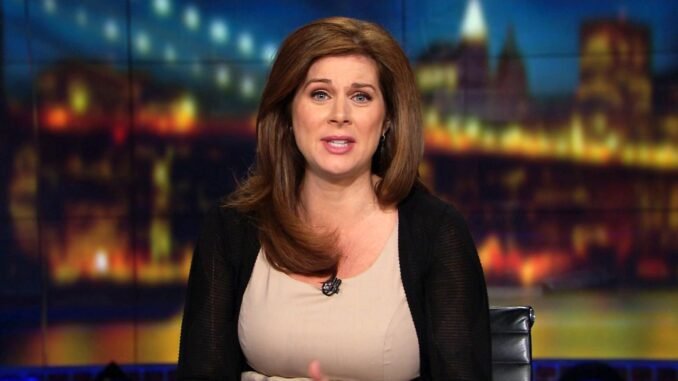 Erin Burnett Biography
Erin Burnett ( born Erin Isabelle Burnett) is a CNN news anchor who now hosts Erin Burnett OutFront. She previously worked for CNBC as the co-host of Squawk on the Street and as the host of Street Signs. Burnett has also appeared on NBC's Meet the Press, Today, MSNBC's Morning Joe, and NBC Nightly News, as well as The Celebrity Apprentice on occasion.

Erin Burnett Age
How old is Erin? She is 45 years old as of 2021. Erin was born Erin Isabelle Burnett in Mardela Springs, Maryland, the U.S. in 1976.
Erin Burnett Education
Burnett graduated from St. Andrew's School, a private co-educational college preparatory boarding school in Middletown, Delaware, after attending The Salisbury School, a private, independent elementary and middle school in Salisbury, MD. She went on to study political science and economics at Williams College in Williamstown, Massachusetts, where she earned a Bachelor of Arts degree in political economy.
READ MORE: Liz Cho Bio, Age, Wiki, ABC, Height, Ethnicity, Height, Family, Married, Wedding, Net Worth
Erin Burnett Nationality
What Nationality is Erin Burnett? Erin is an American national and citizen by birth. She was born in Mardela Springs, Maryland, United State of America. She is of mixed ethnicity/heritage/ancestry. She comes from a large extended family and is proud of her Irish, Scottish, and English ancestry.
Erin Burnett's parents| Family | Mother
Who are Erin Burnett's parents? Burnett was born and raised in the Maryland town of Mardela Springs. She is the youngest daughter of corporate attorneys Kenneth King Burnett and Esther Margaret Burnett. She is descended from Irish, Scottish, and English ancestors.
Erin Burnett Married | Husband
Who is Erin Burnett's husband? She is a happily married lady. Her husband is David Rubulotta, an American business entrepreneur who previously worked as a trader for Lehman Brothers. He is now a managing director at Citigroup. The two met on a blind date in 2003, got engaged in September 2011, and married on December 21, 2012.
Erin Burnett Children|Kids
Burnett and her husband had three children as a result of their marriage. On November 29, 2013, their first child, a son named Nyle Thomas Burnett Rubulotta, was born. Colby Isabelle Burnett Rubulotta, the second kid, was born on July 18, 2015, and Owen Thomas Burnett Rubulotta, the third child, was born on August 20, 2018.
Erin Burnett's Net Worth
Burnett is said to be paid $6 million per year by her company, CNN. She has a net worth of around $16 million as a result of her career as a journalist.
Erin Burnett Illness | Weight Loss
Erin's details regarding her weight loss are currently not yet available. Her exact bodyweight is still under review and will be updated once confirmed publicly.
Erin Burnett CNN | Career
She got a position as a financial analyst at The Goldman Sachs Group, Inc. not long after. In the investment banking section, she focused on mergers and acquisitions as well as corporate finance. Burnett was given a job as a writer and booker for CNN's Moneyline show at the time. She did, however, become the vice president of CitiMedia, Citigroup's digital media division.
She eventually left Citigroup to work as an anchor and Stocks Editor for Bloomberg Television. From 2005 through 2011, Burnett worked for CNBC, where she co-anchored "Squawk on the Street" with Mark Haines and hosted "Street Signs." She stayed with the network until her resignation on May 6, 2011, after more than five years. Erin began working for CNN on October 3rd, 2011, in late 2011. She joined the news network and began hosting her own prime-time news show, 'Erin Burnett OutFront.' The show is shot at CNN's New York City studios. Since 2011, the show has been on the air.
Documentaries by Burnett
♦  2010 – On Assignment: Iraq
♦  2010 – Big Money in the Middle East
♦  2009 – Dollars & Danger: Africa, The Final Investment Frontier
♦  2008 – India Rising: The New Empire
♦  2008 – The Russian Gamble
♦  2008 – City of Money & Mystery
Television Programs hosted and Co-anchored by Burnett
♦  Since 2011 – OutFront as the host
♦  2005-2011 – Squawk on the Street as a co-anchor
♦  2005-2011 – Street Signs as a host
♦  2003-2005 – Bloomberg on the Markets