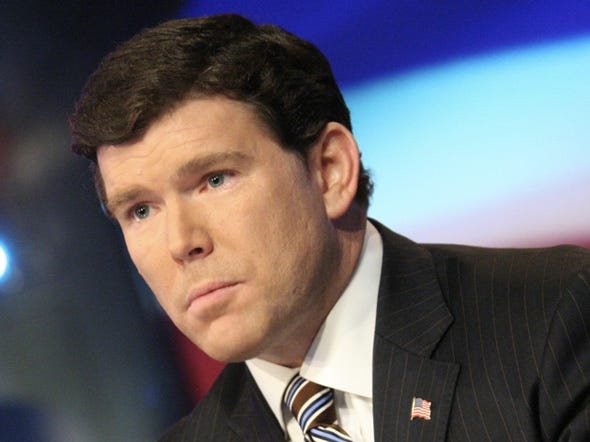 Bret Baier Biography
Bret Baier ( born William Bret Baier ) is an American journalist who now serves as the anchor and executive editor of Special Report with Bret Baier on FOX News Channel, as well as the network's chief political anchor. He was the network's Chief White House Correspondent and Pentagon Correspondent earlier.
Bret Baier Fox News
After sending an audition tape to Fox News, Bret was hired as the network's Atlanta bureau head in 1998. He covered a variety of issues, including Timothy McVeigh's death in 2001 and Elian Gonzalez's trial in 1999. He's also covered more than a dozen hurricanes and provided a series of stories from Cuba.
After driving from Georgia to Arlington, Virginia, to cover the Pentagon attack in 2001, he was named Fox News Pentagon reporter. He previously worked as a national security correspondent for the Pentagon, where he covered military and national security affairs, as well as defense, military policy, and the intelligence community. He stayed in the position for five years, traveling to Afghanistan 11 times and Iraq 13 times.
Bret Baier Career
In January 2019, Bret marked his 10-year anniversary as the host of Special Report, the highest-rated cable news program in its timeslot and consistently one of the top five cable news programs. He joined the network in 1998 as the first correspondent in the Atlanta bureau and is now based in Washington, DC. During his time with the FNC, Baier has been involved in every major political case since joining the network. He most recently co-anchored FNC's Democracy 2020 election coverage with Martha MacCallum of The Story, which received the best ratings for election night coverage in cable news history, with 14.1 million total viewers.
During the 2020 election season, Baier and MacCallum co-anchored coverage of the 2020 presidential debates, with the first presidential debate in 2020 becoming the most-watched in cable television history with about 18 million viewers, as well as the Democratic and Republican National Conventions. Baier and MacCallum also hosted a series of presidential election town halls with then-candidates Sen. Bernie Sanders, Julian Castro, Senator Amy Klobuchar, Sen. Kirsten Gillibrand, and former mayor Michael Bloomberg. The town hall will be co-hosted by Sen. Elizabeth Warren, a past presidential Democratic hopeful.
In April 2019, Bernie Sanders maintained his position as the highest-rated city hall starring a 2020 presidential candidate to date, with almost 4 million viewers tuning in to their virtual special from the Lincoln Memorial alongside President Donald Trump in May 2020. Sen. Amy Klobuchar, the first Democrat to appear on the network for the 2020 election cycle as the Democratic presidential nominee, was interviewed by Baier. He also contributed to the 2018 election coverage, which was the highest-rated midterm election coverage in television news history, according to Nielsen Media Research, beating both local and cable news.
Baier previously conducted an exclusive interview with Saudi Arabia's Foreign Minister Adel al-Jubeir to discuss the assassination of journalist Jamal Khashoggi at the Saudi consulate in Istanbul. Nicaraguan President Daniel Ortega also spoke with Baier confidentially about the region's political and civic unrest. In addition, Baier offered live television coverage of the US-North Korean conference in Vietnam. His program, Special Report, aired live from Hanoi, Vietnam, and featured expert guests and discussion as well as a recap of the summit's fresh developments.
READ MORE: Frank Thorp Bio, Age, Wiki, NBC, Height, Ethnicity, Family, Wife, Relationship, Salary, Net Worth
Baier and Martha MacCallum co-anchored comprehensive coverage of President Donald J. Trump's inauguration. Baier conducted the lone Democratic town hall in March 2016, with former Secretary of State Hillary Clinton and Senator Bernie Sanders (I-VT).
Bret Baier Age
How old is Bret? Baier is 51 years old as of 2021. He was born on 4 August 1970 in Rumson, New Jersey, United States. She celebrates her birthday on the 4th of August every year.
Bret Baier Education
He graduated in 1988 from Marist School, a private Roman Catholic secondary school in Atlanta, Georgia. Baier then went to DePauw University in Greencastle, Indiana, where he earned a BA in political science and English in 1992.
Bret Baier Nationality | Ethnicity
What ethnicity is Bret? he belongs to a mixed ethnicity/heritage. Baier was born and raised in Rumson, New Jersey, United States, he holds American nationality and citizenship by birth.
Bret Baier Height
Baier stands at a height of 5 ft 10 in (1.8 m).
Bret Baier Siblings | Family | Parents
Born and raised in Rumson, New Jersey, United States, Baier was born to a family of mixed German and Irish origins. He has managed to keep his personal life away from the limelight hence he has not disclosed any information about his parents. It is also not known if Baier has any siblings.
Bret Baier Wife | Married
Baier is a happily married man. He is married to Amy Baier. The two married in 2004. Baier has two sons, Daniel Baier and Paul Baier, with his partner, Amy.
Bret Baier Children
Bret and his wife are the parents of two sons. Daniel Bret Baier, born on July 10, 2010, and Paul Francis Baier, born on June 29, 2007. Paul had five significant congenital cardiac abnormalities when he was born. He was saved by three open-heart surgeries and organ donations from other youngsters who did not survive.
Bret Baier Salary
How much does he earn? Baier earns an annual salary ranging between $40,000 – $ 110,500.
Bret Baier Net Worth
Baier has an estimated net worth ranging between $1 Million – $5 Million which he has earned through being a journalist.
Bret Baier Author
Bret has written three books, the first of which was Special Herat: A Journey of Faith, Hope, Courage, and Love, which was published in June 2014. In January 2017, his second book, Three Days in January: Dwight Eisenhower's Final Mission, was released. In May 2018, he published Three Days in Moscow Young Readers' Edition: Ronald Reagan and the Fall of the Soviet Empire. Whitney and I collaborated on the book.